Software malfunction is the general problem that cause hanging of the Nokia c5 phones. It is difficult to identify the exact cause of the malfunction unless the user is an expert in phone technology.
Phone experts warn that if the problem persist, the user should not hurriedly rush to the phone shop to buy another phone. The problem can be solved by hard resetting the phone.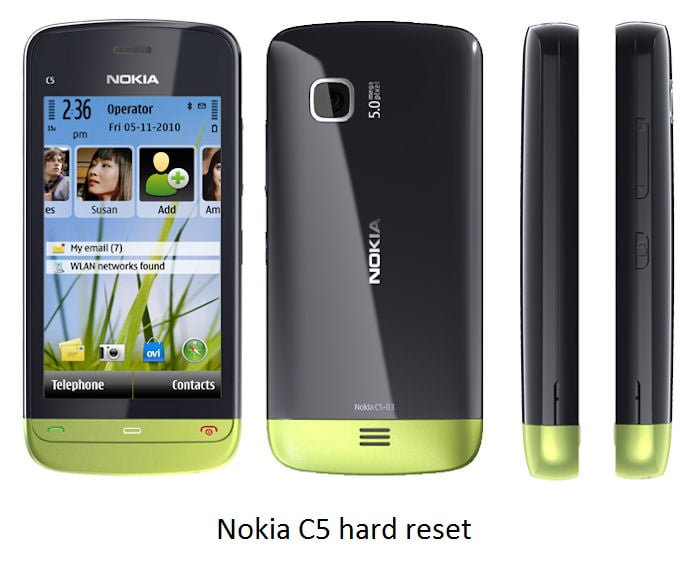 Experts argue that hard reset is the best method of solving software problem of your Nokia c5 phone. However, hard resetting erases all the data stored in the phone including the settings, video clips, mp3s, pdf document, and word document permanently. This is because hard resetting the phone restores all the factory settings.
For safety purposes, the users should take care of data stored in their c5 handsets. The primary and the cheapest precaution to secure your data when performing nokia c5 hard reset is backing up the data in other media. The safest media to save the Nokia c5 data is an external memory. This helps the user avoid losing valuable data stored in the handset. Other backing up media include:
Saving documents as attachments in the email accounts
Saving video clips and mp3s in the Dropbox online accounts
Saving clips on external hard drive for instance in the computer hard disk or an external disk.
Saving files in the flash disks
It is also advisable to delete unwanted or expired information from your c5 Nokia phone to safe memory requirements.
Once backing up is successful, the user can perform following procedure:
Hard reset Nokia С5
Turn off the Nokia c5 phone.
Remove the battery and then put it on.
Press and continue holding "*"+ "3"+ CALL button for some time say five seconds. In C5 Nokia phone, the call button can be a green symbol of telephone handle printed on the CALL key.
Alternatively the user can reset by dialing *#7370# then pressing OK/Yes buttons.
The user then should turn off the C5 phone by pressing the power button. Then the user should turn on by pressing and holding the power button for some time.
After the user turns on the phone on, he or she should wait for the phone to boot until the Nokia logo appears on the screen.
Once the Logo appears, hard resetting is complete. Since al previously saved files and applications are lost, the user should then restore the desired data from the back-up media as desired. Phone experts affirm that nokia c5 hard reset is the best technique to solve software malfunctions.